The street as a destination
Yesterday was a slightly special day as me and my mum experienced the Christmas present she gave me last year: a Black and White Houses Tour. It took up most of my day, which meant that I had to do my street analyse in the late afternoon.
Therefore, I decided to go to a slightly special street that I personally sometimes have as a destination. The street I'm talking about is Yong Siak Street (only 5 min walk from Jln Membina) known as one of the most Hipster-like streets in Singapore. The ground floor is occupied by trendy food places, book stores, a design store and yoga studios and the higher levels by housing. It is a short and narrow one way street and there are on average about 1,5 times as many cars as pedestrians. Still, more than half of the pedestrians chose to walk with the cars rather than using the pavement...I can't stop thinking why? At the moment my only answer is the fact that there is no change in level between the pavement and the rest of the street. If I realise something more, I will let y'all know.
Unother observation I made is that it's a street you spend time in. Many people walk up and down the street, some stop and look at something, others sit down at a café and have a chat or do some work. However, there are still no benches for people to sit. So if I would do something in this street I would first of all create some place for people to sit down. In that way they people can spend even more time in the street and most importantly without paying a single dollar.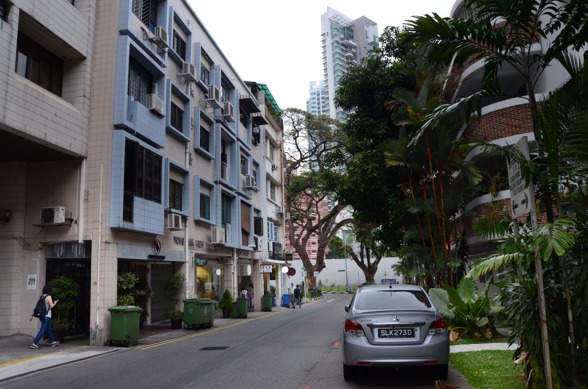 This is all about Yong Siak Street for today and if you're in Singapore and haven't been there yet I can definitely recommend a visit.